Ridhima was sitting in their room and crying. Vansh came to the room and found Ridhima crying but she tried to hide her tears because she knew that her tears doesn't matter to him.vansh with worried face asked" what happen Ridhima"
Ridhima " nothing" she started looking here and there. Vansh" don't try to hide. I know you were crying"
Ridhima tried to pretend normal"ooh that, I think something stuck in my eyes….leave it. You tell me how was your day and must be you hungry…give me two minutes I will bring something for you"
She moved from there but vansh holds her hand said " Ridhima!! I share things with you and I expect the same from you"
Ridhima: there is nothing to share….then how could I say something to you.
Vansh: what do you think I don't know you….tell me what happened.
Ridhima looked at him with pain and love. She gave up and narrated the whole incident and asked " vansh…( tears started coming from her eyes) van…vansh you will leave me. I…I..I….r.e.a.ll.y…L.O.V.E…you.
And I can't live without you."
She was sobbing heavily. Her nose became red and her eyes were too red. Vansh felt pity for her and hugged her right to give emotional support and to console her. She also reciprocated as she needed this. She cried for some time in his arms and he was rubbing her back. He was not stopping her because he knew she need to went out her emotion otherwise it will going to affect her health. He also didn't know what to say in that situation as he doesn't want her to give false hope that he will not going to leave her or he will love her but by denying her he doesn't want to make the situation more critical.
___________________________________________
Now ten days are passed, vansh and ridhima became friends. Vansh started behaving nicely to her even he use to take her out so that she feel good instead of alienated. Now vansh introduced her to his friends.
It was night, Vansh and Ridhima were in their room. " Ridhima let's do a photoshoot. " said he with excitement.
Ridhima: but
Vansh: No if and but….go and change your clothes.
Ridhima: we can click photos in these clothes only.
Vansh: Ridhima why are you so boring and nagging like typical wives…
Ridhima was happy because indirectly he accepted her as his wife. " wait….I will choose a dress for you…" Vansh moved to the wardrobe and searching her whole wardrobe he said " you don't have any western clothes…all are traditional."
Ridhima: Before our marriage, your parent told me that I have to wear only tradition so I didn't bring them.
Vansh: They can't control your life Ridhima and if this was matter then why you didn't tell me earlier.
Ridhima: it's okay vansh….these things doesn't matter to me and I don't have problem in wearing these traditional clothes.
Vansh: Ridhima why are you so submissive. You should fight back for your right.
Ridhima: vansh!!
Vansh: you are my wife and I don't have any problem if you will wear western clothes even I will like.
Ridhima with hope and happiness like children : if you like then I surely do vansh…
Vansh: now go and change your clothes…..
Ridhima went to the bathroom and soon came after changing her dress. " Ridhima why you draped saree like this….it is not looking good"
Ridhima: you did not like it…(vansh nodded) then how should I drape.
Vansh thought for some time said, " do you trust me…(Ridhima looked at him with a frown and nodded in positive) then can I make wear this saree the way I want."
Ridhima was shocked by his request and she was unable to find words…something was happening in her stomach and a current ran in her body thinking about the situation….with so much courage she looked at him and singled him "yes"
Ridhima was standing in front of him and he was thinking " how to start because first, he has to remove her saree then make her wear it". He was rubbing his mouth and he was feeling some unknown feeling. His foots were in the air. Finally, he looked at her for the last time. With a shivering hand, he unpinned her pallu. Both were experiencing some different emotions. For vansh, it was not the first time when he going to do this as many times he helped Roshini. But today he was feeling something different that he never felt for anyone.
Thinking all this he was doing his work and Ridhima was shy and her cheeks were burning and became red. She was playing with her finger to divert her mind. This was the first time when she was this naked to any man and that too her love vansh. When vansh hand touched her bareback. She goes weak in Knees and vansh too felt a shiver in his body. After making her wear a saree he came in front of her to see her and got mesmerized by her beauty. They share their first eye lock. They were exchanging some unknown emotions.
After some time vansh broke their eye contact and brought her in front of the mirror then he helped her in wearing jewellery and both were glancing at each other either directly or through the mirror.
Vansh don't know to make up but he gave instructions how should she use things. He clicked her photos. They enjoy photoshoots and also their moments.
____________________________________________
After some days Vansh was doing something on his phone and Ridhima Was keep her head in his lap thinking something.
Ridhima: Vansh!
Vansh:Hmmm!! (Still busy in phone)
Ridhima: vansh, I am getting bore.
Vansh: club chalogi.
Ridhima: but vansh mom!!!
Vansh: who is saying to told her….you get ready I will manage the things.
Ridhima: Vansh tell me what should I wear.
Vansh: Ridhima I have gifted you many western dresses….you should wear one of them.
Ridhima: okay!!
After some time Ridhima came out of the bathroom and feeling shy. As he looked at her he was frozen.
Ridhima:  am I not looking good…don't you think this dress is too short….mom will scold me.
Vansh was stunned…he was thinking from when his teddy panda become this much hot and breathtaking.
Ridhima: tell me vansh!!
Vansh: you are looking, drop-dead gorgeous sweetheart.
Ridhima blushed at his compliment and looked down in shyness with a smile and asked " how will you going to manage mom"
Vansh: you don't worry but you have to change….I will tell you what you should wear.
Ridhima became sad.vansh looked at her sad expression and said "I am saying this so that we can manage our mom…"
Ridhima nodded. Vansh said " for now wear this …when we will reach there then you can change"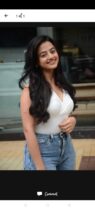 Vansh: nice!!! Now mom will not go to doubt and I leave this bag here only…I will buy a new dress for you…
Ridhima: Vansh what is the need for it….I will carry this bag…
Vansh: Ridhima!!!
Ridhima making a cute face "okay! As you say"
____________________________________________
Outside the club, Vansh was waiting for Ridhima. Again his eyes widened when he saw Ridhima in that look.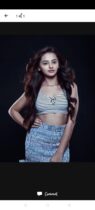 Vansh was unable to take his eyes off from Ridhima. Her long hairs were giving her an extra gorgeous look.
She with shyness came to him.
Ridhima: can we!!
Vansh:
Ridhima jerked his hand and said " vansh!! Let's go inside"
Now vansh came to reality and nodded in yes. He was secretly taking the glance at her. Vansh and Ridhima enjoying there….they were dancing, shouting and doing their weird moves and laughing.
After getting tired they went to counter for drink." Ridhima! Have you ever tried "Hukka".
Ridhima: No!! I don't like smoking.
Vansh: it's not smoking Ridhima…let's try!
Ridhima: Nhi…Vansh.
Vansh: try once…
Ridhima: Vansh!!
Vansh: for me once…for your friend….. if you don't like then I wouldn't force you.
Ridhima: okay!!
Vansh: which flavour you wanna try?
Ridhima: vansh I don't about it…
Vansh: okay! As you are a beginner you should try "blueberry".
Vansh told her how to use and suck. As she took pipe inside her mouth and sucked….she started coughing hardly. Vansh rubbed her back and gave her water.After sometime Ridhima asked vansh…
Ridhima: can I try it again…. it was good…
Vansh gave her a broad smile….and gave her tube. Both enjoyed hukka and now Ridhima's head started spinning.
Ridhima: vansh let's move out…I am feeling suffocated.
Vansh with concern " are you okay Ridhima"
Ridhima nodded in positive… They moved out and walking on Road. Vansh was holding Ridhima's hand tightly as she was intoxicated. Ridhima was keeping her head on his arm.
____________________________________________
In Riansh Room.
Vansh and Ridhima's fingers were intertwined and Ridhima was keeping her head on his chest and making patterns on his chest and vansh was getting arouse.
Vansh: Ridhima stop it…
Ridhima got up and innocently said "what happen Vansh"
Vansh: nothing!! Stop your fingers and sleep.
Ridhima nodded like a kid "okay!!". Again she kept her head on his chest closed his eyes. Ridhima opened her eyes with a jerk and asked Vansh " will you ever be able to love me "
Vansh was stunted with her question and looked at her with a frown. " tell me vansh! Can love happen twice?"
Vansh thought for a while and said " I can't love twice….I can never fall in love again."
Ridhima was hurt and a lone tear escaped from the eye.vansh said " I told you! I can only give pain to you."
Ridhima: vansh! What is the future of our relationship?….
Vansh: I don't know.
Ridhima: am I bad or ugly so you can't love me.
Vansh: nothing is like this….
Ridhima: then?
Vansh: I don't know Ridhima.
Ridhima: tell me what had you seen in Roshini so you fallen in love with her.
Vansh: Her personality…her courage to fight back…her attitude…her strength to get her right….her hard work…her independent nature…her spirit. All these things made me fall for her.
Ridhima thought " I am just opposite of Roshini and that is why he didn't love me….she is a good fighter and I even hardly ask for anything….I am so dwarf in front of him and Roshini has good height that match with vansh…and she is modern and me just contrast of her. How can vansh love me?…If I become Like Roshini then will going to love me."
Thinking all this she slept in his arms.
____________________________________________
In morning Vansh left the house early. When Ridhima didn't find her husband near her she became sad. After getting ready she went downstairs. When Uma say Ridhima her temperature rose to the peak.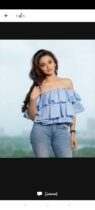 Uma shouted" Ridhima!"
Ridhima shivered and replied in low voice" yes mom."
Uma with anger: you forgot your manner…don't you know how should a daughter in law wear clothes…
Ridhima with low and stammering voice replied " m.o.m….I..I..I…just.."
Uma: what just?
Ridhima: mom ishani also wears western clothes then my not me..
Uma: look at you poor girl…she is the daughter of this house and you are daughter in law. There is no comparison between in you and her…she is my princess and you are burden that is why your parent thrown you from their life to orphanage…and now who adopted you they also thrown you…you are here because of me…you should thankful to me.look his ungrateful you are. Instead of giving gratitude to me you are question me….i will not going to take second in throwing you out of this house….No is with you as vansh is also not accepting you. He just tolerating you because of us so don't try to fly. Am clear to you.
Ridhima eyes get teary on hearing her words and she just nodded in yes.
Uma: never try to mess with me and never forget who you are.. An orphaned whom we are keeping with us and doing favour on you. If people will see you these clothes then what will they going to this about us….and what is the difference between that cheap Roshini and in you…..I don't want second Roshini in my house and fit this thing in your useless mind. Now go and change your these clothes.
Ridhima ran to her room while crying. She didn't come down even for food. Her face was pale and dull. She cried for hours on her faith.
In night when vansh came back , he saw his wife dull and pale he got tensed. Vansh with worried tone " Ridhima what happen?"
Ridhima: nothing! You came…you must be tired , just wait I am going to bring food for you.
Vansh holds her hand and asked " stop this…I am asking what happen? Why are you pale and sad?..is anyone said anything? Just tell me name.
Ridhima looked at him with lots of love and overwhelmed" nothing vansh…i am just tired.(in mind: sorry vansh, I can't tell you because I know you will argue with mom and then she will misinterpret me that I am filling your ears against her…sorry"
Vansh: just look at yourself ridhima…kya haal bana liya hai…you are looking like patients. I am telling you from tomorrow you will not going to do any work…there are many servants for work and we are paying for that. Have you ever seen mom doing all this…(Ridhima looked down) no nah…then why you.
Ridhima: but vansh…
Vansh: I said nah…you will not do anything.
Ridhima: vansh but I like doing all this for family and for you.
Vansh: for family and for me why are you neglecting yourself….Ridhima we can't always scrify our happiness for others….kabhi khusi me bhi khush hona sikho….make you self little bit selfish so that one can snatch your right and happiness of your part….
Ridhima this world is very cruel. Life not always give you chance to smile so don't these chances and make yourself happy not for others but yourself.
Ridhima: vansh but we can't become selfish for our happiness…what about them.
Vansh: if they are yours then they will understand you and support you in your decision because it's time for them to sacrify their happiness for you and give chance to feel happiness like you always gave them by sacrificing your happiness. Why always you only.
Ridhima looked at him like lost puppy. Vansh said " now come and sit….see I brought your favourite choco lava and chilli potato…I am hungry let's eat."
Ridhima: Vansh I am not hungry…you eat.
Vansh: Ridhima you are denying choco lava….how?
Achha leave…(taking her hand in his hand )came here.
Took her to the window." Ridhima see how beautiful scene is…" She looked at the moon " now close your eyes" Ridhima looked at him with confusion but closed her eyes as vansh said. " now try to relax yourself and feel coolness of this moon….try to feel this cold breeze. Just think about the things which you love most and want to enjoy them again."
Ridhima was feeling relaxed and when cold breeze touched her face..a relief generated in her body. Her face was still pale but she was looking beautiful in moonlight. Vansh was looking at her lovingly or should I say admiring her. Ridhima opened her eyes and smiled at him and leaned her hear to his arm. Vansh also encircled his arm around her shoulder.
After some time they ate food happily and drifted in sleep.
____________________________________________
Next day vansh friends (Ahaana, Angre and Aryaan) came to meet him. All were in vansh room.
Anhaan was getting annoyed on seeing Vansh and Ridhima closeness in photos….photos were stating that they are very happing in their marriage life….(is they happy in their marriage life…..this is called life ) Ahaan is trying to come close vansh since school days but vansh never gave her chance to come close.
Aryaan was flirting with Ridhima and seeing all this Vansh giving him " tu bahar aake mil" wala look. A strand of hairs coming again and again on Ridhima's face. Aryaan was about touch but vansh held his hand. All looked at him with " whaattt" look.
Vansh : what happen?? Why all of you staring me….And Ridhima please bring something to eat for us. Ridhima nodded and moved. After some time she came with plates.
Everyone was happily eating and Aryaan asked " Ridhima! From which restaurant you ordered this food."
Ridhima: this…this is home made.
Aryaan: okay!! Tell me the name of person..I want to kiss on cook's hand.
Ridhima looked at vansh and he angrily said " Aryaan! You don't have any work except these useless work "flirting….and this food is made by D'suza…you wanna kiss her then go and one more thing don't come back here."
Everyone was shocked at his action.Ahaana " Vansh! Why are you overreacting?"
Vansh: you wanna go with him…nhi Nah…. then stay silent.
Aryaan casually said " cooldown bro…I was just joking"
Vansh: and Vansh Raisinghania don't like jocker and his lame jokes.
Angre: vansh leave them…..I want to talk with you…
Both moved out of the room.
____________________________________________
Ridhima and vansh were sitting on the bed. Ridhima was a little nervous and looking at vansh.
Vansh: what happen Ridhima…
Ridhima: I want say something…
Vansh: say..
Ridhima: Vansh! You know I love cooking
Vansh got the glimps of Aryaan's talk…" Ridhima sorry… I should have not given credit to D' suza when it was your hard work…Sorry!"
Ridhima: it's okay…i want to talk about something else.
Vansh: seriously you are not angry…
Ridhima: nhi!!!! I want to make my passion my profession.
Vansh shouted in excitement "Really…congratulation…I am very happy."
Ridhima: thank you!!! I want to go and compete my degree so that I can start work.."
Vansh: where you wanna go!!
Ridhima with low voice said " I want divorce"
Vansh's face became pale on hearing divorce.
Ridhima smiled sadly "I want to make you free from this forcefull marriage….but I always love you and wants you stay happy"
Vansh with heavy heart " okay!! I will call lawyer tomorrow…..I am happy that you are thinking about you and your dreams..and about your happiness.All the best for your bright future."
This post is auto generated. All Materials and trademarks belong to their rightful owners, all materials to their authors. If you are the owner of the content and do not want us to publish your articles, please contact us by email – [email protected] . The content will be deleted within 48-72 hours.( maybe within Minutes)